NativeScript 3.0 is almost here!
If I had to describe NativeScript 3.0 in two words, I would say "FASTER APPS" and say it loud!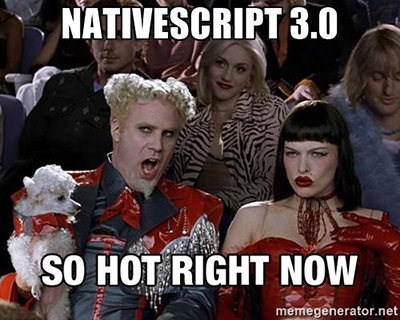 But that's not all that is coming with 3.0. While the cat is (mostly) out of the bag with the 3.0 release candidate, the final bits are coming soon. And what better way to learn about everything new and exciting in 3.0 than to attend our free online webinar!?
On Wednesday, May 17th, at 10 AM EDT, the NativeScript team will show you how to build faster apps in less time with NativeScript 3.0.
Not only will we be doing a deep dive into all of the performance improvements, we will also be covering enhancements to your development experience (think devtools and CLI updates), recent updates to UI for NativeScript, and Angular 4 support (it's just "Angular" now

).
We may also have "just one more thing" to show you! The NativeScript team has been working on a new tool to help make your NativeScript development easier than ever before (for both Mac and Windows developers). By attending the webinar, you can get a sneak peek of this new tool and sign up for the public beta.
Don't forget, during the webinar, we will be answering your questions live via Twitter by using #AskNativeScript to tag your questions.
Seats really are limited, so register now!
You can learn more about NativeScript 3.0 today with these resources: