I'm excited to formally present to the community our very first pioneering and talented cohort of NativeScript Ambassadors! From over 90 candidates, these are the 18 extraordinary people who have been selected to pair with an amazing mentor. Our mentors, having volunteered from our Developer Experts program to work with a team this summer, have generously offered their time and expertise to mentor newer developers. A big shout-out to our Mentors and their teams!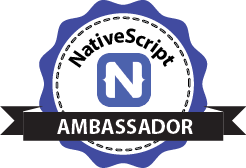 The goal of the NativeScript Ambassador program is to bring a new group of developers up-to-speed with NativeScript development while being mentored with some of the most talented experts in the industry. It is a golden opportunity for new developers to find mentorship and learn valuable skills from some of the best. 
The cohort will run from June through August, and each team will choose how and when to meet, and what the focus of their projects this summer will be. At the end of the summer, the team members will have had the opportunity to build a NativeScript app or plugin, to blog about it, aided by editorial expertise from within the Developer Relations team, and to present their projects to executives from within Progress. 
During June, the teams will establish their dynamic and lay the foundation for work. July is all about teaching, building, and blogging, and August will be about polishing and presenting.
Here are the teams with a description of their focus:
Team LatamTeam: Jorge Cano, Mentor (Argentina), building a Twitter clone for real-time messaging using Firebase
Mitchell Contreras (Panama)
Javier Fonseca (Colombia)
Gabriel Fiocchi (Argentina)
Gabriel Almiñana (Argentina)
Jose Pedraza (Bolivia)
Oscar Mendoza (Colombia)
Team NativeBaguette: Brad Martin (USA) and Osei Fortune (Trinidad), Mentors, focusing on plugin development

Jean-Baptiste Aniel (France)
Rachid Al-Khayyat (France)
Team CodeShare: Nathan Walker (USA), Mentor, focusing on sharing code between web sites and mobile apps

Richard Smith (Canada)
Nitish Dayal (USA)
Team Brosteins: Nick and Mike Branstein (USA), Mentors, focusing on Angular and NativeScript integrations

Daniel Leal (Portugal)
Clayton Orman (USA)
Team TrackingPaws: Alex Ziskind (USA), Mentor, building a new 'Tinder for Dogs' app prototype

Daniel Botero (USA)
Igor Nepipenko (Ukraine)
Team Sociability: Nic Raboy (USA), Mentor, building social apps including a 'Meals on Wheels app'

Mike Taylor (USA)
Stephanie Cray (USA)
Team PioneeringGeeks: Sherman Chen (Singapore), Mentor

Luna Kang (USA)
Stefan Medjo (Cameroon)
Watch the NativeScript blogs for news about our Ambassadors, and stay tuned for articles and "pitch day" in August!