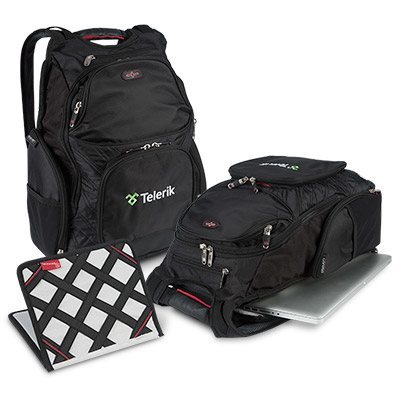 We've got some extra-sweet backpacks ready to mail out and
you can get one
.
Note: We apologize, but due to customs restrictions, we can only ship within the US, Canada and UK.

Choose one of the following options:


Publish 2 tutorial videos (minimum 4 minutes per video) to NativeScript Snacks (examples) – simply submit the YouTube URLs in the form below
Publish 5 code snippets to NativeScript Snacks (examples) – simply supply the snippet URLs from the snippet creator in the form below.
Answer 10 StackOverflow questions tagged with NativeScript (must be legitimate answers and not simply replies)
Publish a new NativeScript theme to GitHub
Publish a new NativeScript plugin to npm
Then let us know by
filling out the backpack form
. With your fancy new backpack, you will easily be the envy of your fellow commuters. Get one now before they are all gone!